TO SEE FULL COLLECTIONS, VISIT OUR HOMEPAGE FOR THE BEST VALUE.
FLORA COLLECTION
Inspired by the colors of Spring, The Flora Collection takes us down the rabbit hole into a wonderland of pastel pinks, soft blues, and unicorn iridescent hues.
Run each action and see the colors dance across your photos. You can layer different actions, changing their opacities to create your own color mood. Our actions are designed to be easy to follow, and even easier to manipulate and modify so that you can create colors that are striking and unique to your vision!
Includes six beautiful premium actions.
Actions included in this set:
1. Blush of Rose
2. Nightshade
3. Ultraviolet
4. Blue Jasmine
5. Iris
6. Garden of Life
A LOOK INTO THE COLLECTION
Here's a set of before and after images that we crafted these actions from, to show you the direction you can expect from these actions!
Garden of Life
The last light of the day slipping through woodland greens creating a perfect harmony of warm tones, we call this magic time, golden hour. Bring that magic to your images with this action. Crafted to add warmth with something that little bit extra that no one will be able quite put their finger on.
Nightshade
Bring the cool hues of the color spectrum to your images with this action. I imagined the kind of deep blue experienced on moon kissed nights, subdued highlights and deep shadows that hold color secrets.
Blush of Rose
Pinks never looked so good! Warm layers wrapped up in pastel blush rose tones ground this romantic action making it perfect for portrait, engagements, and wedding images.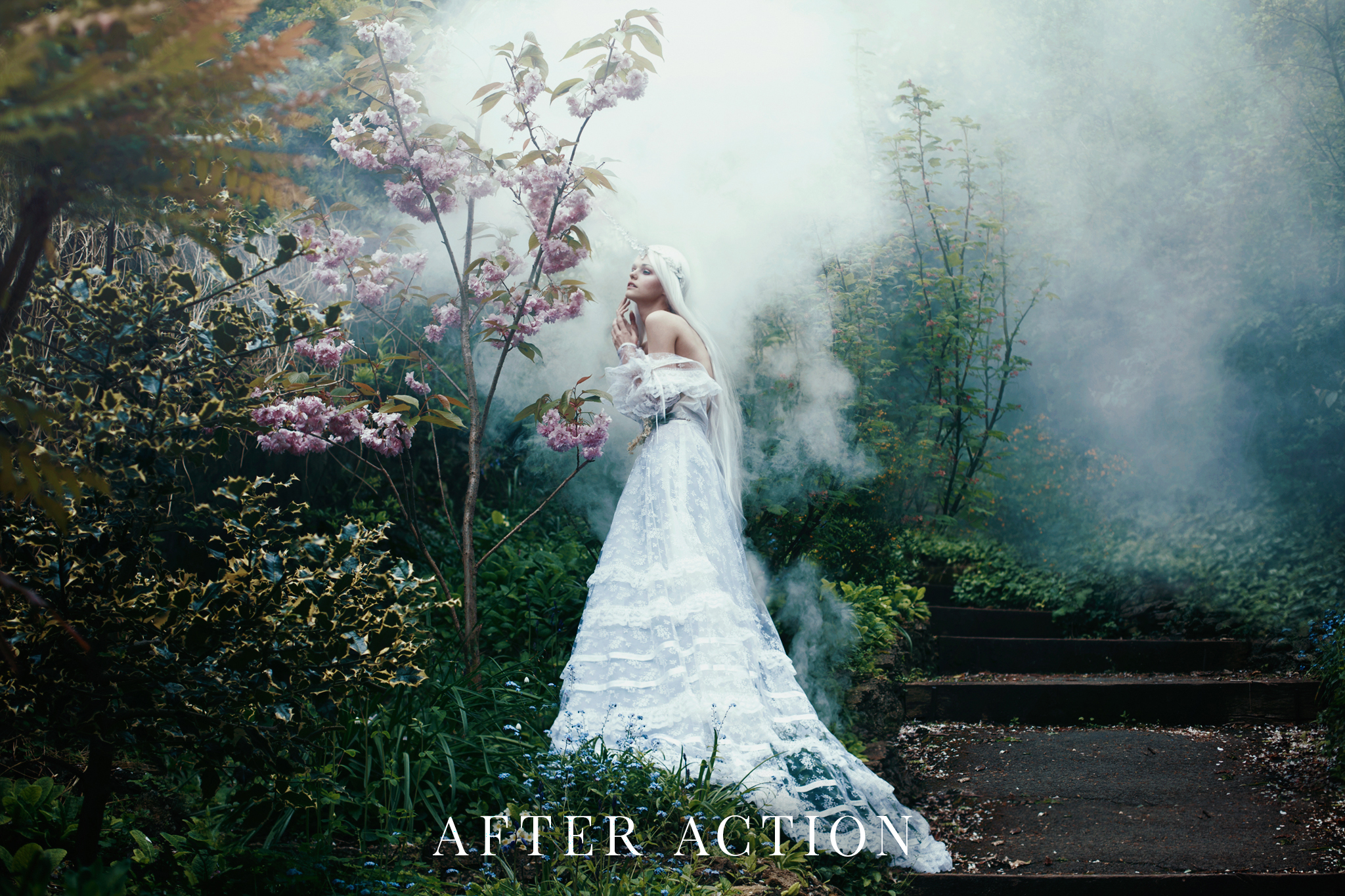 Iris
This unique action of warm and cool tones runs beautifully in both studio and location shots both portrait and wide framed. Blues hide in the shadows warmth in the highlights, and a range of colors in the space between.
Ultraviolet
Imagine lavender infused shades of pastel purples that transform an ordinary image into something filled with magic. This action lifts your pictures to another level with it soft lilac tones and works beautifully with all genres of photography.
Blue Jasmine
The ethereal contrast of background hues of blues and soft greens with warm subject tone allow the color tones for this action work to bring depth and life to any picture.
Check out Colour Toning with the Flora Collection
Please share your creations with us on Instagram with the hashtag #fineartactions as well as over on our Facebook group - http://bit.ly/2salaRb
TESTIMONIALS
JENNY KAISER
It was love at first sign, when I saw the Fine Art Action homepage for the first time.

I always had the feeling that "actions" are for lazy people and also none of the previous Photoshop actions I saw on the internet fitted my images. But these one are just made for fairy themed pictures. Also you still have to do the work! Tweaking and changing the settings makes so much fun!

Fine Art Actions are definitely a part of my workflow and I'm always looking for new colors!

Check out more of Jenny's work - here!
NOELLE DRAKE WOOD
I've tried a lot of different action sets (you could say impulse buying actions is a weakness of mine) and this one really blew me away. I feel like there is an action that is perfect for every type of photo, whether it's natural light, strobes, vivid color, or monochromatic. These actions are 100% my go-to for fine art.

Check out more of Noelle's work here - www.noellewoodstudio.com
SEE MORE TESTIMONIALS HERE.